Knowledge Hub
Artículo Didáctido
Julio 20, 2021
Introducción a la anatomía patológica
"La introducción en la práctica clínica de terapias dirigidas contra el cáncer, en las que se selecciona a determinados pacientes para tratamientos novedosos en función de los resultados de las pruebas moleculares complementarias de las muestras de sus tumores, ha generado nuevos e importantes retos para los laboratorios de histopatología quirúrgica, entre los que cabe citar la estandarización en la manipulación de los tejidos y la preparación de las muestras con una documentación precisa para garantizar una calidad óptima de las muestras clínicas y, de este modo, reducir el riesgo de errores en las pruebas de biología molecular" *

Tal como se ha comentado ampliamente en las publicaciones científicas**, el proceso al que se someten las muestras en los laboratorios actuales de anatomía patológica requiere niveles más altos de estandarización y documentación para lograr un objetivo de rendimiento con «cero errores».
La rastreabilidad completa de las muestras a partir de la obtención de las muestras del paciente y la automatización total del proceso representan los avances tecnológicos necesarios para alcanzar un nivel máximo de seguridad para el paciente y de eficiencia para el laboratorio.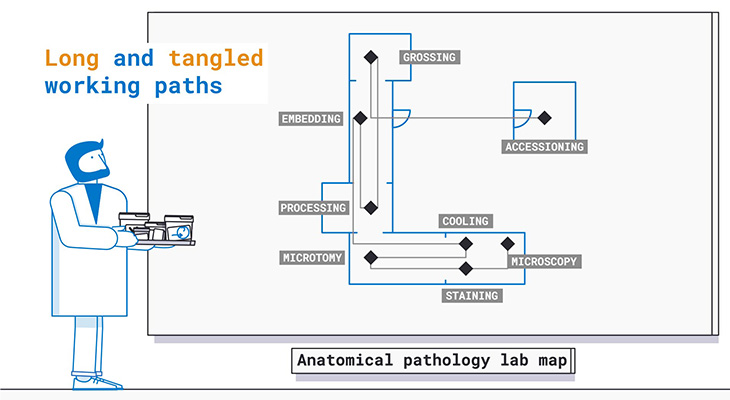 Inpeco, con su larga experiencia en automatización adquirida en laboratorios clínicos de todo el mundo, tiene previsto llevar esta tecnología avanzada a los laboratorios de anatomía patológica. Las nuevas herramientas para la rastreabilidad guiada de las muestras asociadas a la automatización del laboratorio ayudarán a controlar la trayectoria de la muestra desde la extracción del paciente, así como a agilizar las tareas repetitivas, mejorar los flujos de trabajo, reducir los costes operativos y eliminar el riesgo de errores en el proceso.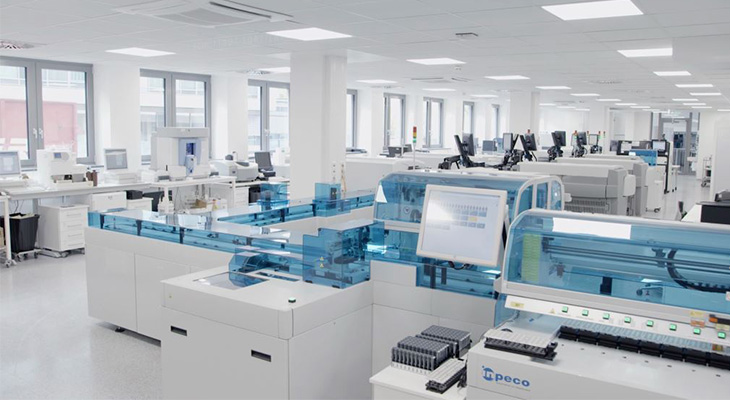 El punto de partida es el paciente y su prescripción médica. En primer lugar, se verifica la identidad del paciente y, después, se toma su muestra y se rastrea durante todo el proceso, hasta el diagnóstico y el biodepósito final.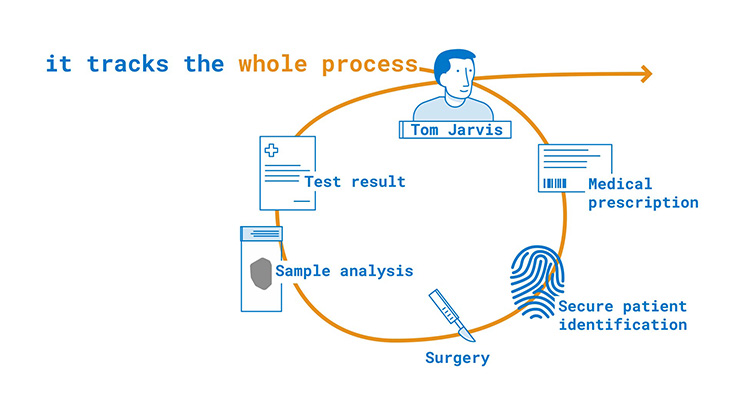 La automatización total del proceso se logra a través de estaciones robotizadas que recogen y transfieren las muestras entre los diferentes pasos del flujo de trabajo, lo que garantiza un control total del proceso. La automatización permite a los operadores concentrarse en su trabajo especializado (las tareas técnicas), lo que añade valor al proceso en sí mismo.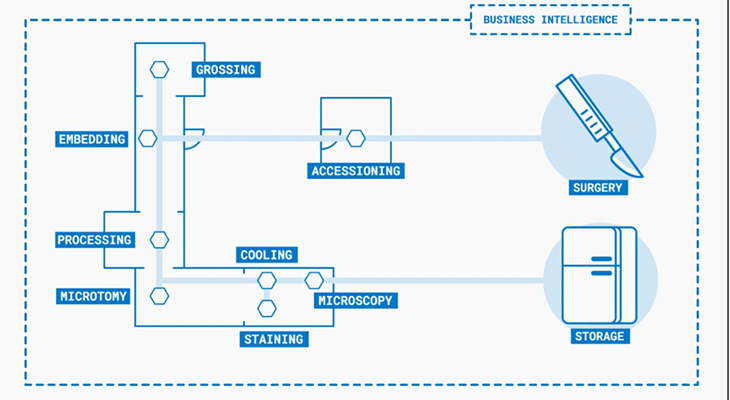 Sources:
*DG Hicks & BF Boyce (2012) The challenge and importance of standardizing pre-analytical variables in surgical pathology specimens for clinical care and translational research, Biotechnic & Histochemistry, 87:1, 14-17, DOI: 10.3109/10520295.2011.591832
**R. J. Zarbo, F. A. Meier, and S. S. Raab, "Error detection in anatomic pathology," in Archives of Pathology and Laboratory Medicine, 2005.
** M. A. Makary, J. Epstein, P. J. Pronovost, E. A. Millman, E. C. Hartmann, and J. A. Freischlag, "Surgical specimen identification errors: A new measure of quality in surgical care," Surgery, 2007.
** L. J. Layfield and G. M. Anderson, "Specimen labeling errors in surgical pathology: An 18-month experience," Am. J. Clin. Pathol., 2010.
**Hicks D.G. (2014) The Impact of Pre-analytic Variables on Tissue Quality from Clinical Samples Collected in a Routine Clinical Setting: Implications for Diagnostic Evaluation, Drug Discovery, and Translational Research. In: Potts S., Eberhard D., Wharton, Jr. K. (eds) Molecular Histopathology and Tissue Biomarkers in Drug and Diagnostic Development. Methods in Pharmacology and Toxicology. Humana Press, New York, NY. https://doi.org/10.1007/7653_2014_18
**Roque, Ruben & Henrique, Hermínio & Aguiar, Pedro. (2015). Preanalytic errors in anatomic pathology: study of 10,574 cases from five Portuguese hospitals. DIAGNOSIS. 2. 10.1515/dx-2015-0005.
**Quality Measures in Pre-Analytical Phase of Tissue Processing: Understanding Its Value in Histopathology J Clin Diagn Res. 2016 Jan; 10(1): EC07–EC11. Published online 2016 Jan 1. doi: 10.7860/JCDR/2016/14546.7087
**A Review of Preanalytical Factors Affecting Molecular, Protein, and Morphological Analysis of Formalin-Fixed, Paraffin-Embedded (FFPE) Tissue: How Well Do You Know Your FFPE Specimen? B. Paige Bass, PhD; Kelly B. Engel, PhD; Sarah R. Greytak, PhD; Helen M. Moore, PhD Arch Pathol Lab Med (2014) 138 (11): 1520–1530.