Meet the Inpeco Team – Interview
Meet our New Head of Quality Assurance & Regulatory Affairs, Francesco Dell'Antonio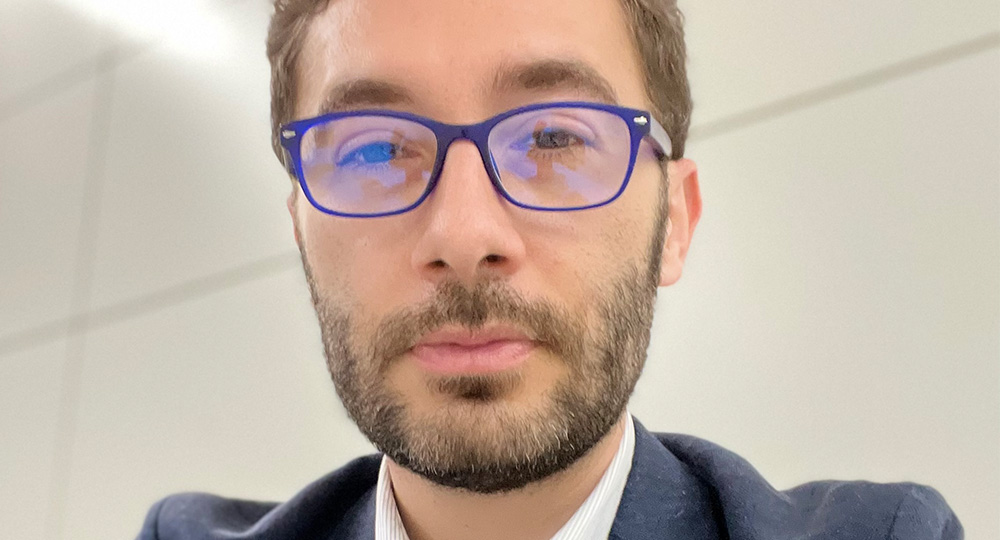 In July 2021, Francesco Dell'Antonio joined Inpeco as Head of Quality Assurance & Regulatory Affairs. Francesco's career developed mainly in medical device companies, first in a Notified Body, then in several manufacturing companies strongly oriented towards foreign markets (US, China, Japan, Korea, South America, etc.). He held positions with increasing responsibility in the Quality, Regulatory & Compliance areas.
1. Hi Francesco, what motivated you to join Inpeco and what are your first impressions of Inpeco after 4 months?
After 9 years in the same company, where I gained a lot of experience and was able to address almost any kind of issue, I was looking for a challenge where I could face recent problems, offering my experience to contribute to the growth of the business.
I feel Inpeco is in quite a unique position: the healthcare world is evolving quickly, and we have all that is needed to play a key role. We have solid technology knowledge, visionary projects for the near future, a lot of competence and passion in our teams. If we can focus our energies in the right direction, the future is in our hands.
2. What are the key challenges for a Quality team in the healthcare sector?
Ours is a highly regulated environment and we need to ensure the compliance of our devices and processes with an impressive number of external requirements. The expectations of customers and external bodies are continuously increasing but, at the same time, the organization needs to gain efficiency, be flexible and be able to overcome shortages and increases in raw material costs, while still being compliant with the requirements.
A top-class quality team can understand all those needs and find a way to make them work together.
3. What is the mission of the Quality team in the organization?
Let me first break a cliché: it is not to prepare documents to pass the audits.
Quality's mission is to create value.
Value through the improvement of the quality of our products and the efficiency of our processes.
Our 6 pillars are:
Improving the quality of products
Improving the efficiency of processes
Contributing to the creation of value
Spreading the culture of quality across the organization
Ensuring compliance with external requirements
Being a partner of the business in everyday life
The Quality team is here to support and help the organization to perform at its best, but Quality is you! Each of you! Everybody in the organization is responsible for making the best effort to do it right the first time, keeping a critical approach towards our work that will lead to the improvement of our processes.
In my career, I have never found an organization where a "Quality Police" system worked. I believe that people need support, training, and advice, rather than control. A good quality team can help find solutions that combine internal needs with external requirements and expectations.
4. How is your team structured and what is its role exactly?
The Quality department currently includes 5 teams: Regulatory Affairs, Quality Assurance, Quality Control, Product Compliance and Product Certification. From 2022, a couple of other essential teams will be created.
In the image below, you can see some key responsibilities of each team, but they are just a small part of what they do. Each of them contributes to creating value according to its responsibilities.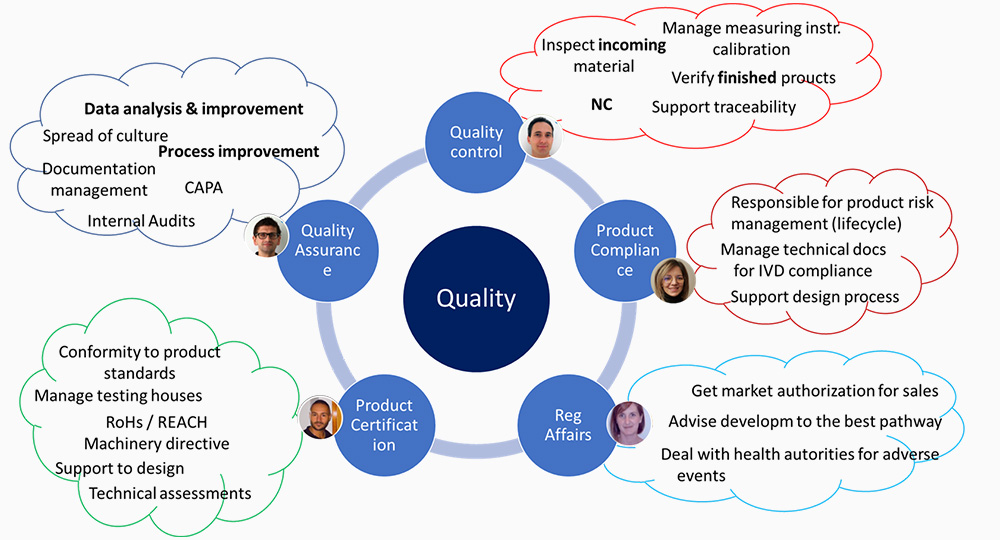 5. Can you give me an example of value created by any of these teams?
Let me use the example of Regulatory Affairs (RA).
When it comes to developing a new device, or to changing an existing one, there are a lot of choices to be made during the development phase. By making the team aware of the impact of each choice, RA guides to the pathway that minimizes the time-to-market and the cost, while being compliant with external constraints.
Getting our product approved in the US in 1 month is quite different from obtaining approval in 1 year.
6. What are the 3 highest priorities for your team for the next year?
To continue and complete the reorganization of the Quality department, establishing some key teams (supplier quality, product quality) and making further adjustments to the existing ones.
To run a plan to spread Quality Culture & Awareness across the organization.
To finalize some key projects concerning the improvement of enterprise risk management and the definition of a clear responsibility framework.
7. What are your hobbies, when you are not at work?
Family first! I have the luck of having a big family with 3 children and I spend most of my time with them when I am not at work. We love to travel, visit new places together, and we did so during the pandemic as well – as far as it was possible. I try to take a couple of hours off every week to play tennis, run and exercise. When I can't, at least I walk our dog, who can't wait for it.