Inpeco Tailor-made Automation Designed for Your DreamLab at AACC 2022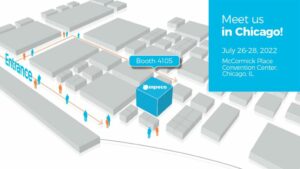 For the seventh year, Inpeco will be exhibiting at the 2022 AACC Annual Scientific Meeting & Clinical Lab Expo (booth #4105), July 26th – 28th, which will be hosted at McCormick Place Convention Center in Chicago, IL.
Following our theme of "Tailor-made Automation Designed for You", booth visitors will have the opportunity to co-design their own laboratory automation solution with our Automation Solutions Consultants in the booth (#4105). If you are excited to start envisioning your future now, simply download the Inpeco DreamLab mobile app on
App Store: https://apple.co/3G0ipXg ​
Google Play: https://bit.ly/3FUs7KH​
and create your version of your own dream laboratory to share and discuss with our laboratory automation experts.
Inpeco booth visitors will discover how FlexLab™, the true open automation system, increases productivity, reduces turnaround time, and generates premium quality test results that are fully traceable. As the global leader in total laboratory automation, we help laboratories of all sizes realize their vision of excellence in clinical diagnostic workflow, error-free sample handling, and complete traceability.
Incoming samples of impeccable quality are the prerequisite for reliable test results in the lab. With ProTubeTM Suite, Inpeco's smart solution for the pre-analytical phase, safe and controlled sample collection and preparation becomes a reality. Along with ProTubeTM Transport, the gap between the pre-analytical and analytical phase is closed.
For visitors interested in continuously monitoring and optimizing their site's clinical, operational, and financial performance, Inpeco's powerful Automation Software provides the answer. Thanks to an intuitive interface and a suite of easy-to-use dashboards, every healthcare professional has at hand's reach performance indicators such as turnaround time, module uptime and the efficiency of the workflows, from the collection phase to the delivery of results.
Please visit us at booth #4105 to meet our team and learn more about how you can make your DreamLab come true!