Knowledge Hub

Case studies
July 27, 2017
Quality & efficiency inside and around the Lab
The story of a fully automated Clinical Lab, where the benefit of traceability starts at the sample collection point
The Centro de Medicina Laboratorial Germano De Sousa (CML GS) is a well-known laboratory in Portugal. It processes over 4000 patient samples per day across its six centers, with a central hub located in Lisbon. The laboratory's founder and director, Professor Germano de Sousa, is an internationally renowned doctor.
More to discover in this article [Portuguese]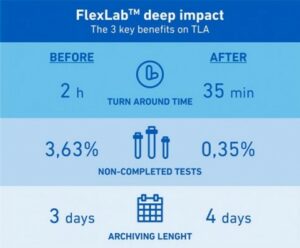 The goal of the laboratory has always been quality of data – meaning results delivered on time, in full and error-free.Following this mission, two years ago the center installed an automated track, that delivered improvements in Turn Around Time, brought the whole lab process under control and increased automated storage capability. After one year the center decided to bring under full traceable control also the 'point zero' of Clinical lab activity, that is the collecton point, where most of the standard lab errors occur.
Today, thanks to ProTube, the center wholly express the Inpeco holistic view of a fully automated Lab.