Knowledge Hub

Educational Articles
November 06, 2018
Advantages of Total Laboratory Automation over Task Targeted Automation
What are the main differences between the two types of Lab automation? Gigi Minola explains them and offers the Inpeco's view on the topic.
Gigi Minola, a Vice President of Inpeco, with a long track record in IVD market, explains in plain words the benefits of a streamlined Total Testing Process, generated by Total Automation. Here are his words, from a recent speech delivered at a conference:
"For 23 years now, Inpeco has been focusing exclusively on Total Lab Automation (TLA). That's because we feel that this kind of technology offers labs the greatest benefits compared to other forms of automation, such as TTA (Task-Targeted Automation).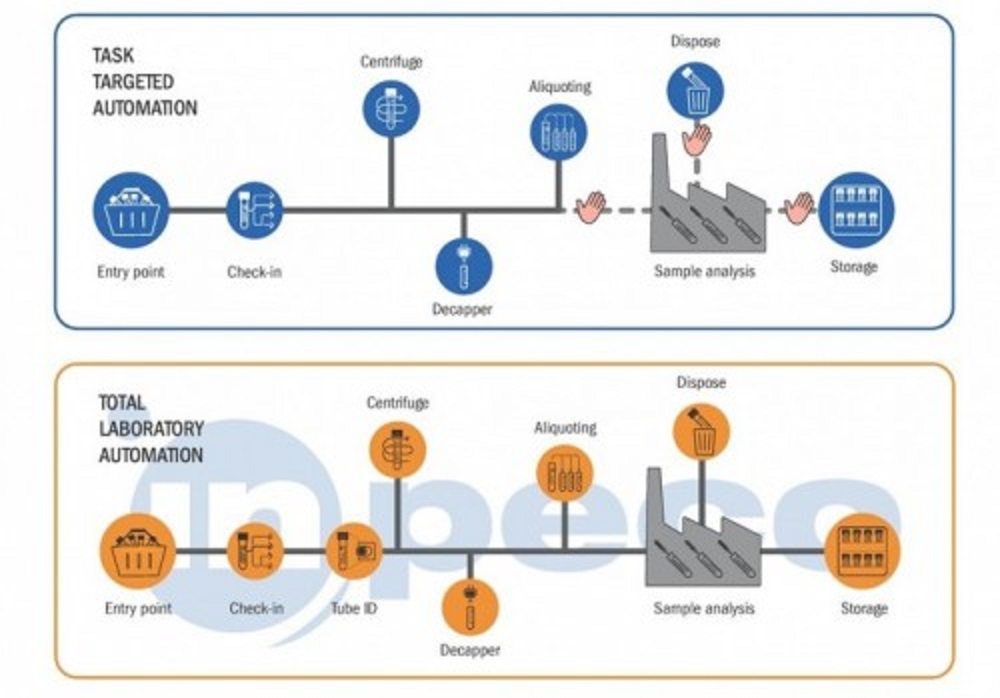 The TTA process
With TTA, a module will run specific process tasks, such as decapping and sorting. However, operators must transport the samples by hand to the various analyzers, take them back for post-analytics, and finally move them into refrigerated rooms. As you can easily imagine, all these steps are time-consuming and require the involvement of people. Also, they affect traceability, because with TTA samples will sometimes be left temporarily idle.
The TLA process
With TLA solutions, all that changes: you simply load the samples in the form you require (in bulk or racks), and the TLA solution sees to the rest. The samples are prepared selectively; if necessary, they are decapped and centrifuged, and then sent on to the relevant analyzers, before being sealed, stored and disposed as required. This system saves on redundant, low-value activities, while also improving traceability – which means that you can be sure where every single sample has been and what has happened to it on the way. Naturally, improved quality and evolved utilization of resources have a direct, positive impact on patient safety and enterprise outcomes.
This is why we believe that TLA is a vast improvement on TTA; it offers the real continuum of the Total Testing Process by connecting as many specialties as possible. The end goal is for customers to simply load their samples into a "single point of entry", and forget about complex workflows or different sample specialties.
With our TLA solutions, that goal is finally in sight."