Knowledge Hub

Educational Articles
July 20, 2021
An Introduction to Anatomical Pathology
"The introduction of targeted cancer therapies into clinical practice, in which patients are selected for novel treatments based on results of companion molecular testing of their tumor specimens, has created significant new challenges for the surgical pathology laboratory. These include standardization of tissue handling and sample preparation with accurate documentation to ensure optimal quality of clinical samples to reduce the risk of errors in molecular biology tests." *

Current Anatomical Pathology Working Paths
As widely reported in scientific literature**, the current specimen pathway in the Anatomical pathology laboratory requires higher levels of standardization and documentation to achieve a zero-defect performance goal.
Full specimen traceability starting from patient sample collection and total process automation represent the technology leaps needed to reach the highest standard for patient safety and laboratory efficiency.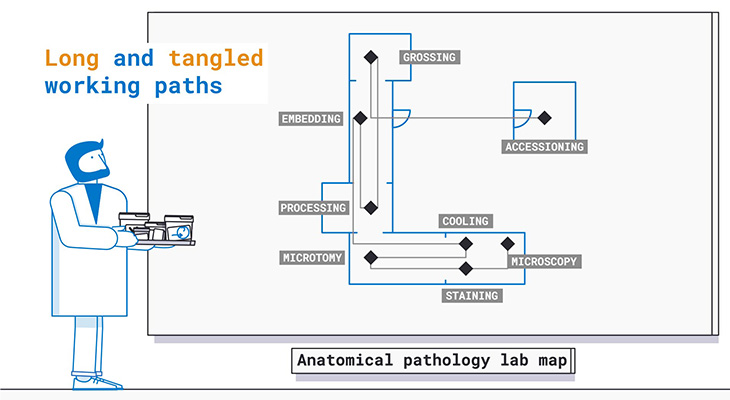 Inpeco global leader in total lab automation
Inpeco, with its long-standing automation expertise gained in clinical labs worldwide, plans to bring this advanced technology into Anatomical Pathology labs. New tools for guided sample traceability linked to laboratory automation will help control the specimen path from patient collection, streamline repetitive tasks, improve workflows, reduce operational costs and eliminate the risk of errors in the process.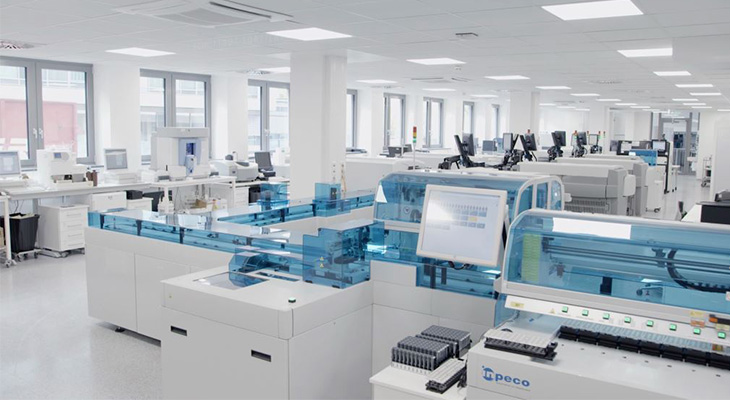 Advanced technology for the Anatomical Pathology lab
The starting point is the patient and his medical prescription. Firstly, the patient's identity is verified. Afterward, their specimen is taken and traced throughout the entire process, until the diagnosis and final biorepository.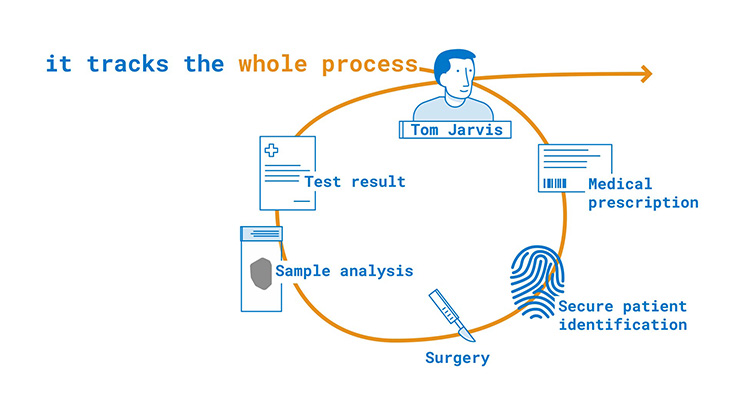 Total Process Automation
Total Process Automation is achieved through robotized stations that collect and transfer the specimens between the different steps in the workflow – for full process control. Automation allows operators to focus on their specialized work (technical tasks), that adds value to the process itself.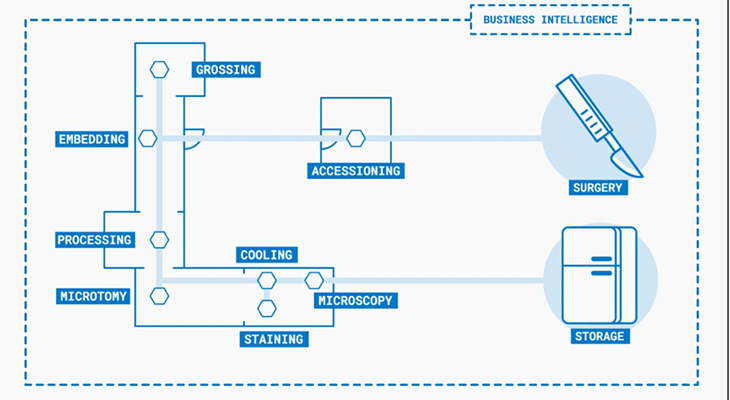 Sources:
*DG Hicks & BF Boyce (2012) The challenge and importance of standardizing pre-analytical variables in surgical pathology specimens for clinical care and translational research, Biotechnic & Histochemistry, 87:1, 14-17, DOI: 10.3109/10520295.2011.591832
**R. J. Zarbo, F. A. Meier, and S. S. Raab, "Error detection in anatomic pathology," in Archives of Pathology and Laboratory Medicine, 2005.
** M. A. Makary, J. Epstein, P. J. Pronovost, E. A. Millman, E. C. Hartmann, and J. A. Freischlag, "Surgical specimen identification errors: A new measure of quality in surgical care," Surgery, 2007.
** L. J. Layfield and G. M. Anderson, "Specimen labeling errors in surgical pathology: An 18-month experience," Am. J. Clin. Pathol., 2010.
**Hicks D.G. (2014) The Impact of Pre-analytic Variables on Tissue Quality from Clinical Samples Collected in a Routine Clinical Setting: Implications for Diagnostic Evaluation, Drug Discovery, and Translational Research. In: Potts S., Eberhard D., Wharton, Jr. K. (eds) Molecular Histopathology and Tissue Biomarkers in Drug and Diagnostic Development. Methods in Pharmacology and Toxicology. Humana Press, New York, NY. https://doi.org/10.1007/7653_2014_18
**Roque, Ruben & Henrique, Hermínio & Aguiar, Pedro. (2015). Preanalytic errors in anatomic pathology: study of 10,574 cases from five Portuguese hospitals. DIAGNOSIS. 2. 10.1515/dx-2015-0005.
**Quality Measures in Pre-Analytical Phase of Tissue Processing: Understanding Its Value in Histopathology J Clin Diagn Res. 2016 Jan; 10(1): EC07–EC11. Published online 2016 Jan 1. doi: 10.7860/JCDR/2016/14546.7087
**A Review of Preanalytical Factors Affecting Molecular, Protein, and Morphological Analysis of Formalin-Fixed, Paraffin-Embedded (FFPE) Tissue: How Well Do You Know Your FFPE Specimen? B. Paige Bass, PhD; Kelly B. Engel, PhD; Sarah R. Greytak, PhD; Helen M. Moore, PhD Arch Pathol Lab Med (2014) 138 (11): 1520–1530.