Knowledge Hub

Educational Articles
March 08, 2021
Taking a Moment to Reflect on your Lab's Future in 2021
As we closed out 2020 with what has probably been one of the most unique years within the laboratory industry, Inpeco wanted to take this moment to reach out to our friends and partners to thank you all for your tireless efforts as the global healthcare community continues to fight the Covid-19 pandemic.
We came across an article from Clinical Lab Manager titled "Better Approaches to Clinical Laboratory Design" from last July and wanted to share some of the great points that were made especially as many laboratories will potentially find themselves in a new normal as the dust begins to settle in the coming years.
Covid-19 testing has created many new workflow challenges for laboratories. These include patient registration, correct patient identification, correct sample type determination, specimen logistics, pre-analytical preparation, and a number of issues related to platform/reagent availability as well as instrument interfacing to quickly release results.
So, where do laboratories begin the journey of becoming more efficient especially when "This trend of increasing complexity and volume will continue as genetic testing and personalized medicine advance?" As Joyce Durham and Steve Hackman describe in their article, optimizing space allocation and encouraging healthy work environments will become key differentiators for labs in the future.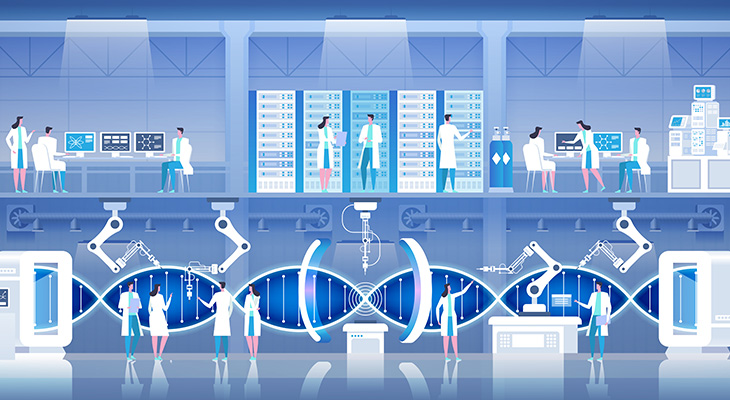 Optimizing space location
The authors say that important decisions should be made regarding the lab's location within the hospital, because space is more and more critical and expensive. Many organizations are rethinking how and where to locate laboratory space, which may include these considerations:
Core labs: located on-site within the hospital, 'core' reference labs have proximity to patients and pathologists, but also occupy premium space and expensive real estate.
Rapid response labs: located on-site near the emergency rooms, they support the need for immediate tests or rapid (four-hour) turnaround capacity.
Mega labs: located in a centralized location off-site to process longer, less time-sensitive testing with high-volume throughput.
Each of these location considerations is complex and affected by existing space constraints, real estate costs, and consideration about the proximity of the core lab. The clinical laboratory's workflow needs a specific approach, that prevents overcrowding and congestion in the lab, while improving safety, performance and efficiency.
Encouraging healthy work environments
The two authors assert that creating environments that enhance the quality of life and wellness of lab users is one of the highest priorities in designing clinical laboratories today. While traditional ergonomic reflections remain critically important, the following holistic approach can enhance further the lab's workplace:
Automation decreases repetitive motion disorders and increases staff efficiency
Shared interaction spaces promote teamwork, trust, and collaboration
Adjustable light levels accommodate a range of tasks
Natural light, colour, and artwork create comfortable, human-centric environments
Staff break rooms with views enhance collaboration
Hence, the analysis of these benefits should guide laboratory directors to configure a suitable solution for meeting workers' needs and handling increasing testing demands.
Technology advancements such as open laboratory automation, open informatics systems, and flexible space solutions are a few of the things that contribute to moving laboratories from 1.0 to 2.0 and beyond. Inpeco has been a great partner to laboratories across the globe for over 25 years helping them to address challenges such as these. Our dedicated workflow consulting team who specializes in the application of lean methodologies within the lab, is ready to help you plan and develop your laboratory of the future. Please connect with us at marketing@inpeco.com or follow our social channels for the latest developments and Inpeco innovations.